The Worlds Leading Luxury Private Villa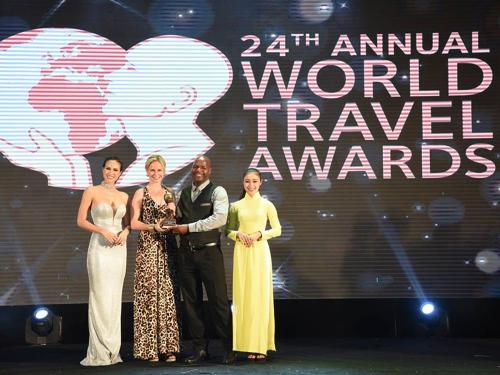 World's Leading Luxury Private Villa 2017 - WINNER
A spectacular event held at the
JW Marriott Phu Quoc Emerald Bay
, Vietnam saw Villa iZulu triumph at the
World Travel Awards
Grand Final Gala Ceremony 2017.
A wonderful achievement for our beautiful Villa which lies within in the heart of Thanda Safari.
Click
here
for more details.
Three Momentous Wins for Thanda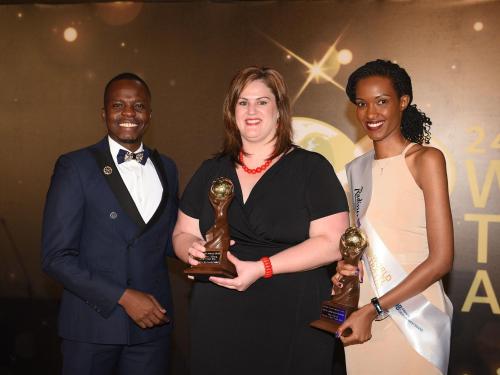 11 October 2017: Thanda Safari and Thanda Island were the proud winners of three awards at last night's prestigious World Travel Awards Africa Gala Ceremony 2017, held in Kigali, Rwanda. The exclusive Thanda Island was awarded Africa's Leading Luxury Island title whilst Villa iZulu, Thanda Safari's majestic safari villa, was named both Africa's Leading Luxury Private Villa as well as South Africa's Leading Luxury Private Villa 2017.
Thanda's New Reservations & Yield Manager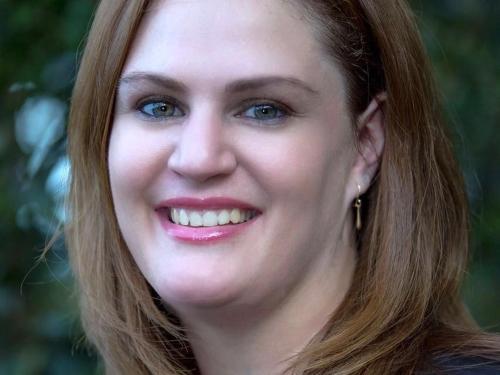 February 2017: We are delighted to introduce Lara Soldat who has joined the Thanda team as Reservations & Yield Manager bringing with her a wealth of experience.
She started her career working at The Royal Hotel whilst qualifying for an International Diploma in Hospitality Management at the International Hotel School in Durban. Following this, and a number of Front Office and Reservations Manager roles for smaller properties in the region, she went on to gain employment at Fairmont Zimbali Lodge in Ballito as Assistant Front Office Manager and relief Night Auditor.

in 2010 she became part of the opening team for Fairmont Zimbali Resort as Sales Coordinator where she developed her appetite for reports and numbers. Subsequently, Lara was handed the Assistant to the Director of Sales and Marketing role where she focused on system and report building, sales target setting and assisting in market segmentation reports and budgets. From here, and after exploring a few other roles, she became the Assistant Revenue Manager where she oversaw the activities of the Reservations Department and worked with Online Travel Agents.

In 2016 she was chosen to participate in the Fairmont Hotels and Resorts Revenue Management Academy and on completion achieved a certificate through eCornell in Hotel Revenue Management.

Having never worked for a safari lodge or an exclusive island, Lara was attracted by the new and exciting challenges it would bring. With her love for analytics and reservations systems she is looking forward to making a valuable contribution to the Thanda Family.
Thanda voted World's Leading Safari Lodge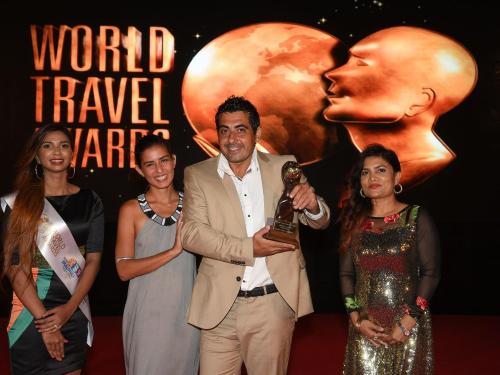 December 2016: Thanda Safari Lodge was honoured, together with its new sister product Thanda Island, at the glittering World Travel Awards Grand Final Gala Ceremony 2016 held in the Maldives and awarded the title of World's Leading Safari Lodge. MD of Thanda Safari, Pierre Delvaux: "Having recently won The Leading Hotels of the World's 'Remarkably Uncommon' Award at their annual convention in Buenos Aires, Argentina, I am extremely proud of our Thanda Safari team that continue to impress guests, whom they blow away with their exceptional service and the WOW factor."
The Most Remarkably Uncommon Hotel of the World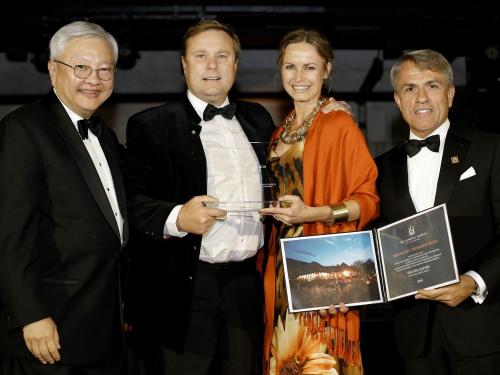 November 2016: Thanda Safari is thrilled to have won the prestigious Remarkably Uncommon Award at The Leading Hotels of the World's 2016 Membership Awards. Celebrated in Buenos Aires, Argentina, on Saturday 12 November the ceremony honoured just six member hotels and hoteliers for their continuous commitment to creating happy guests, exemplary leadership in and contribution to the art of hospitality and passion for delivering remarkably uncommon experiences.
Click here for the full press release.
Art Project Thanda - A Star For Life Project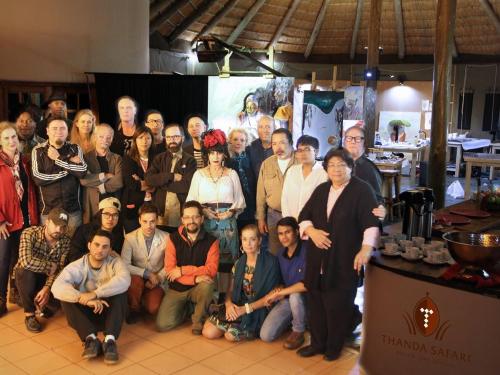 Thanda Safari hosted 20 artists from around the world for a week long first-of-its-kind art project titled Art Project Thanda – Star for Life 2016. Invited by Dan and Christin Olofsson, Thanda Safari's owners and founders of Star for Life, the international group of artists have been creating pieces of art inspired by their safari surrounds and the people they meet. The artwork will go on to benefit Star for Life's programme, raising funds through a unique exhibition and auction that will be held at Stockholm's Auktionsverk in Autumn 2017.
Click here for the full press release
Thanda Spa voted 'South Africa's Best Safari Spa'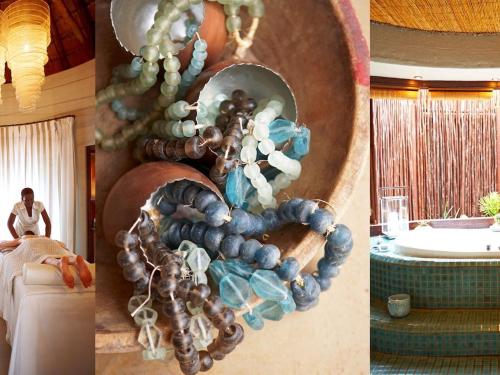 5 September 2016: The Thanda Spa has been awarded South Africa's Best Safari Spa at the 2nd annual World Spa Awards™. This year saw a record number of votes cast by leading spa tourism professionals as well as hundreds of thousands of spa consumers globally. The World Spa Awards took place in Sardinia on 4 September 2016.
We've been around the World!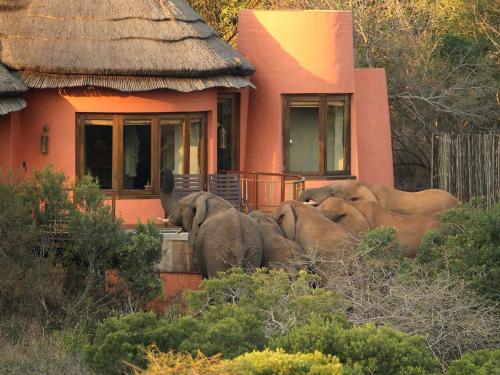 Have you seen this clip? We think you might have done as it has gone viral! It was taken by a recent guest of ours who got the surprise of her life when a herd of thirsty elephant came to drink from the plunge pool of her suite one afternoon. This video was taken a few weeks ago whilst staying at Thanda Safari Lodge, providing a very rare close-up encounter with these magnificent animals. The plunge pools sit on the edge of a raised deck, but thanks to the elephants' great size and long trunks, accessing the water was not a problem! It is currently winter in South Africa, which brings with it cool sunny days and little rainfall. During these months water dries up resulting in animals venturing closer to the Lodge as they go in search of a drink.
Thanda Honoured at the 2016 World Travel Awards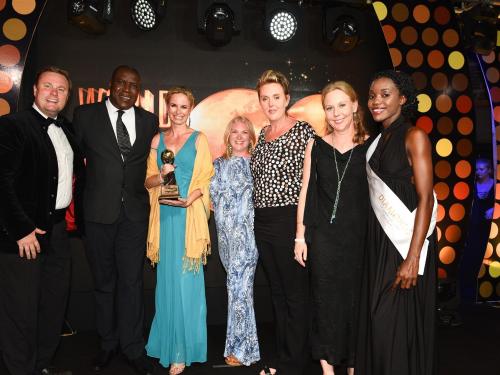 10 April 2016: Thanda Safari was honoured twice at the glittering World Travel Awards™ Africa & Indian Ocean Gala Ceremony 2016. Villa iZulu, the majestic private safari villa with five well-appointed suites, earned an award as South Africa's Leading Luxury Private Villa, whilst Thanda Safari Lodge, comprising 9 vast suites with panoramic views of the wilderness, received the award for South Africa's Leading Safari Lodge.
World's Leading Luxury Lodge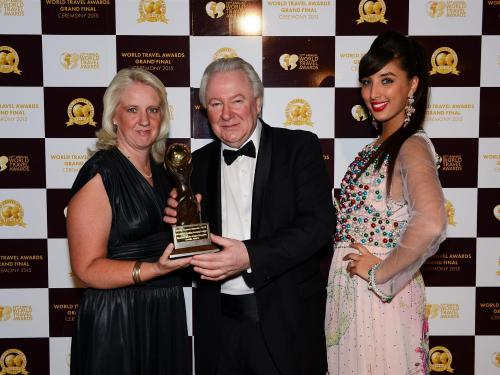 14 December 2015: Thanda was once again awarded the title World's Leading Luxury Lodge at the World Travel Awards (WTA) Grand Final Gala Ceremony 2015 held Saturday night in El Jadida, Morocco. The picture shows Thanda Safari Lodge Manager, Sharon Bennett, and Graham Cooke, the President and Founder of the WTA (from left to right).
Africa's Best Safari Spa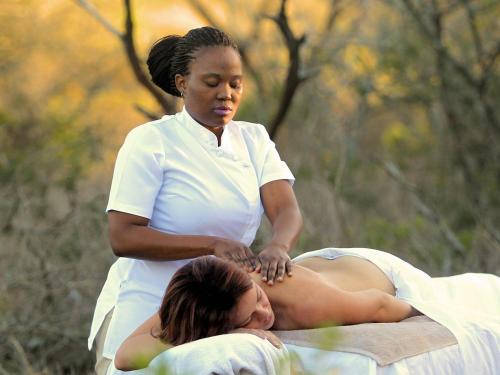 15 September 2015: We are proud to announce that The Thanda Spa has been awarded both Africa's and South Africa's Best Safari Spa award at the inaugural World Spa Awards. It was only last year that we refreshed and added a series of holistic treatments to our spa offering at Thanda Safari Lodge and introduced a completely new Bush Spa at Thanda Tented Camp. This accolade rewards our commitment to excellence and determination to become the undisputed market leader.